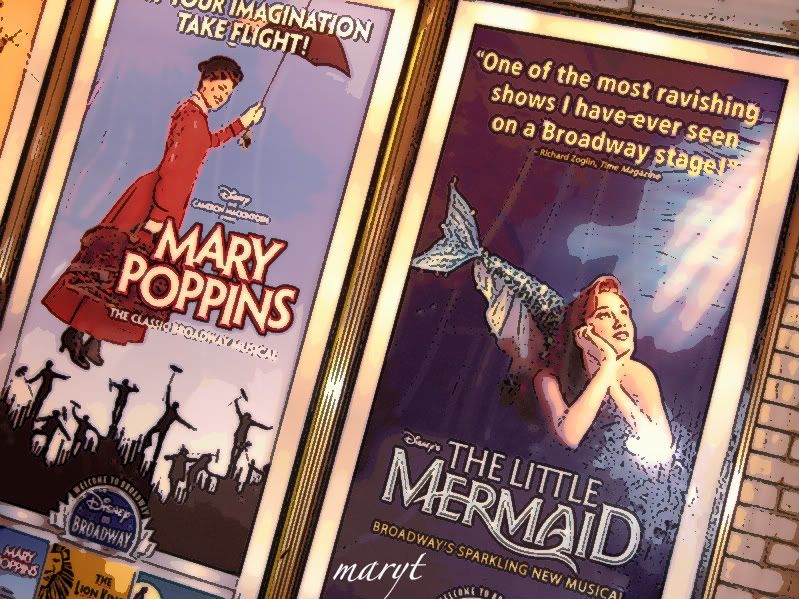 This is Manhattan,
Broadway
to be exact, the part of My World I want to show you today. The crowds are waiting for the doors to open for the play
Equus
which we attended several weeks ago. As you can see it's a daytime matinee which we prefer to an evening performance. The streets are crowded with automobile traffic, taxis and buses. People cross in the middle of the street without fear. Along with
London
's
West End theatre
, Broadway theatre is usually considered to represent the highest level of commercial theatre in the English-speaking world.
The Broadway theatre district is a popular tourist attraction in New York City. According to
The Broadway League
, Broadway shows sold approximately $937 million worth of tickets in the 2007-
08
season. Despite being located in a bigger area, Broadway theatre audience figures were lower than those for West End Theatre for 2007.
The
Broadway poster
above was found at the side of the Broadhurst Theatre. Posters are created by talented artists who strive to bring you a sense of the shows without giving away too much. Posters can be bought in shops around the area or on the Internet.
The
Equus

poster
looks just like the one on top of the Broadhurst theatre. And it costs $20.00.
So that's My World for today.
Klaus,
Ivar
,
Wren
,
Fishing Guy
&
Louise
Don't forget to go over and visit!
maryt/theteach