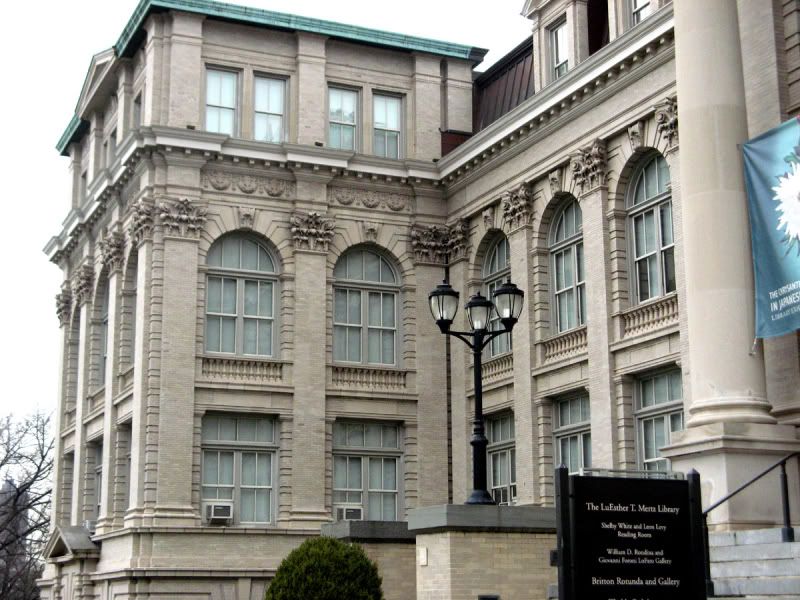 The LuEsther T. Mertz Library
New York Botanical Gardens, Bronx, NY
Beaux Arts style
1900
Several weeks ago we went to this beautifully appointed library to see "The Chrysanthemum in Japanese Art" an exhibition housed there until January 11, 2009.
Beaux Arts architecture denotes the academic neoclassical architectural style that was taught at the École des Beaux Arts in Paris. The style "Beaux Arts" is above all the cumulative product of two and a half centuries of instruction under the authority, first of the Académie royale d'architecture, then, following the Revolution, of the Architecture section of the Académie des Beaux-Arts.
The Beaux-Arts style heavily influenced US architecture in the period 1885–1920. Other European architects of the period 1860–1914 tended to gravitate towards their own national academic centers rather than fixating on Paris.
Beaux-Arts architecture depended on sculptural decoration along conservative modern lines, employing French and Italian Baroque and
Rococo
formulas combined with an impressionistic finish and realism.
Klaus,
Ivar
,
Wren
,
Fishing Guy
&
Louise
Don't forget to go over and visit!

maryt/theteach