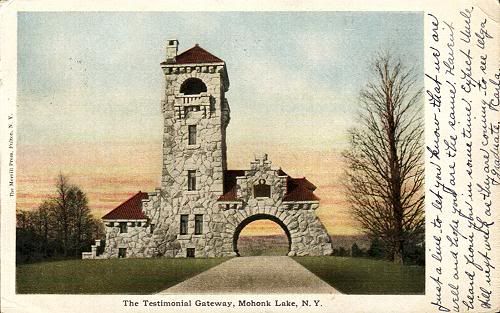 The Testimonial Gateway still proudly stands at the entrance to what was once the stage route to Mohonk Mountain House. Mohonk is the last of the great 19th Century resort hotels of its kind. Nestled in the Shawangunk Mountains of Upstate New York the Mountain House is still going strong after 130 years.
A plaque at the gate's base reads, "Erected by their guests to commemorate the fiftieth anniversary of the wedding of Albert Keith Smiley and Eliza Phelps Smiley, the founders of Mohonk, 1857-July
8-1907.
Quare Monumentum Circumspice" (to seek their monument, look about).
Antique postcards of Monhonk Mountain House, N.Y.