Beth of The Best Hearts are Crunchy
hosts
Postcard Friendship Friday
.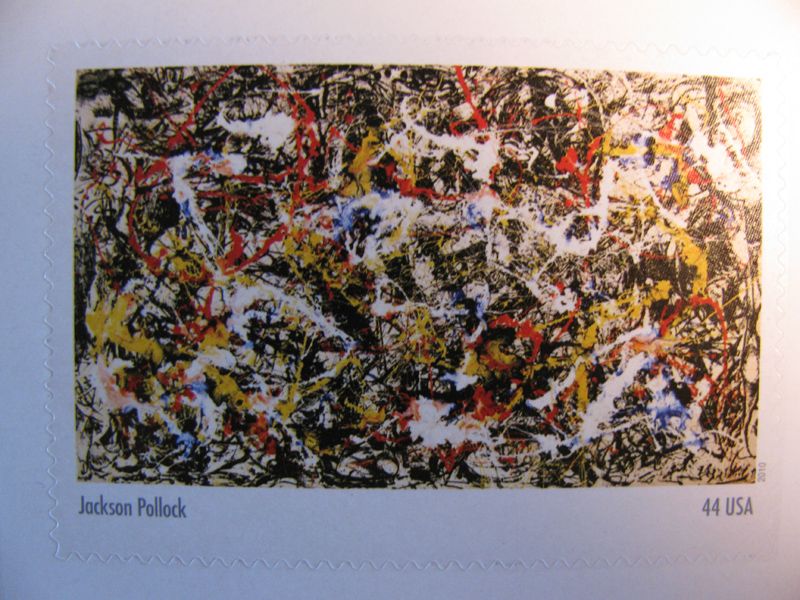 Here are two more
Abstract Expressionist Stamps
put out by the United States Post Office recently. Both are very large and colorful. You can see a full explanation at this post.

The function of the artist is to express reality as
felt. ~ Robert Motherwell
With this stamp, the U.S. Postal Service honors Bill Mauldin, one of America's favorite cartoonists. During World War II, military readers got a knowing laugh from Mauldin's characters Willie and Joe, who gave their civilian audience an idea of what life was like for soldiers. After the war, Mauldin became a popular and influential editorial cartoonist.

In 1945, he won a Pulitzer Prize "for distinguished service as a cartoonist" and the Allied high command awarded him its Legion of Merit. His illustrated memoir, Up Front, was a bestseller. That same year, his "dogface" Willie appeared on the cover of Time.
U.S. Postal Service art director Terry McCaffrey chose to honor Mauldin through a combination of photography and an example of Mauldin's art. The photo of Bill Mauldin is by John Phillips, a photographer for Life magazine; it was taken in Italy on December 31, 1943. Mauldin's cartoon, showing his characters Willie and Joe, is used courtesy of the 45th Infantry Division Museum in Oklahoma City, Oklahoma.